Kristen Schneider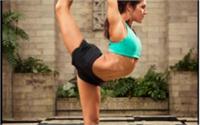 Kristen Schneider first discovered yoga while living in China in 2009. She immediately fell in love with it and traveled to its source in 2010. Kristen spent six months in India studying, practicing and teaching yoga. As a child Kristen used dance as a medium to express herself through movement. Dance was always a safe haven where she was free to explore herself. Kristen resonates with yoga asana because like dance it can be creative and therapeutic. Asana offers an outlet to move and breath freely. It's a precious time in a safe place to play, release, relax and transform. Her approach to teaching illustrates her beliefs. She is enthusiastic, encouraging, nurturing and compassionate. Kristen couples her passion for yoga with Ayurveda. Ayurveda is yogas sister science that focuses on nutrition, herbal remedies and lifestyle therapy. Yoga and Ayurveda partnered together create an all encompassing paradigm for a happy, healthy, beautiful life! Kristen teaches yoga full time and practices as an Ayurvedic consultant at Ayurveda Orlando in Heathrow Urgent Care ,Lake Mary Fl.
Kristen Schneider instructs the following:
HOT YOGA consists of a balanced, healthy sequence of Hatha Yoga postures practiced in a heated room. HOT YOGA is appropriate for newcomers as well as experienced yogis; Athletes love HOT YOGA for the healing benefits of the sequences and the heat. BE PREPARED TO SWEAT! From head to toe the body will be invigorated and detoxified while sharpening mental focus and renewing the spirit.




This is an ALL LEVELS WELCOME vinyasa flow yoga class. This class will be sure to invigorate the system,detox, stretch and strengthen the body, and put you in a blissful mindset. Join us.